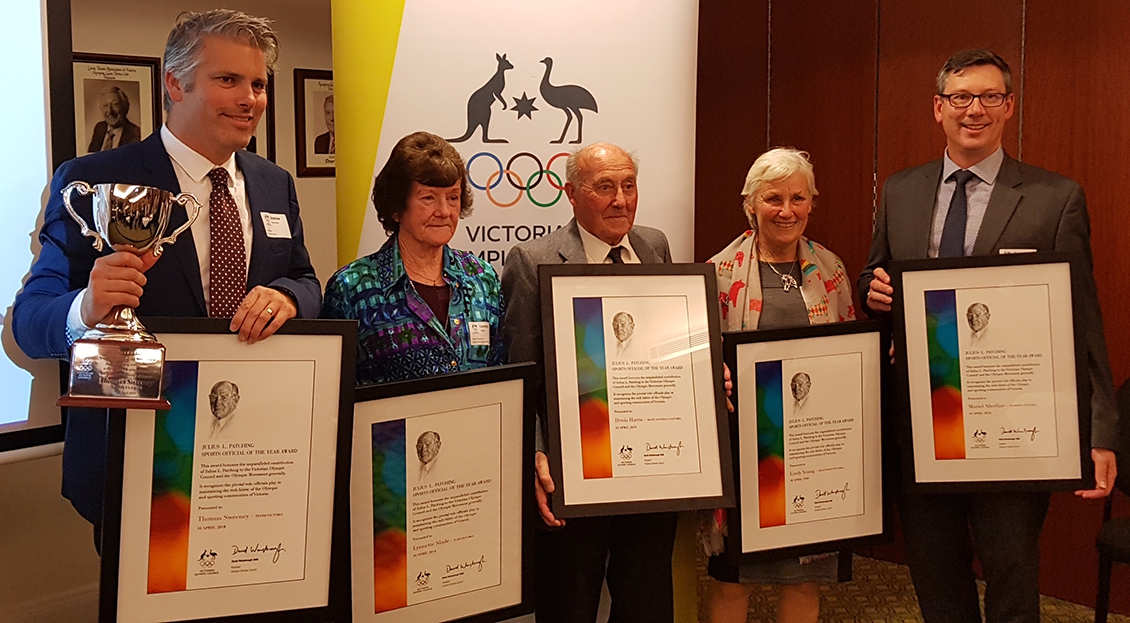 Julius L Patching award
Last week, Matthew Brown, CEO Equestrian Victoria and Clint Rose, Chair Jumping Victoria, were proud to accompany Lindy Young and husband Peter to the Victorian Olympic Council AGM and Awards Cocktail Event on Monday night, for the announcement and presentation of the Julius L Patching award.
The award is in recognition of the unprecedented and tireless contribution of Julius L Patching to the Victorian Olympic Council (VOC) and Olympic community. 'Judy' was a voluntary Official from 1947 until his death in 2009. This award recognises the outstanding contribution that officials make to the fabric of the Olympic sporting community in Victoria.
Lindy, an Equestrian Victoria member, has been a fantastic official, rider, competitor and breeder, offering knowledgeable services across all disciplines for more than 50 years.
"We were honoured to nominate Lindy for this award and accompany her to the awards cocktail event", said Matthew. "The equestrian community in Victoria highly values her dedication and achievements over many years".
Lindy officiated at the 2016 Rio Olympic Games and was a groom at the 1976 Montreal Olympic Games. She has been an official at 3 FEI World Equestrian Games: Kentucky 2010, Normandy 2014 and this year she will again show her commitment in Tryon for the 2018 WEG.
"I am quite passionate about it (our sport), and only wish to see it remain as popular as always not only at the elite level but at the grass roots", said an enthusiastic Lindy. "...many thanks for your support and to EV for the nomination for the 'Judy' Patching award."
The main award was finally presented to Thomas Sweeney from Tennis Victoria.