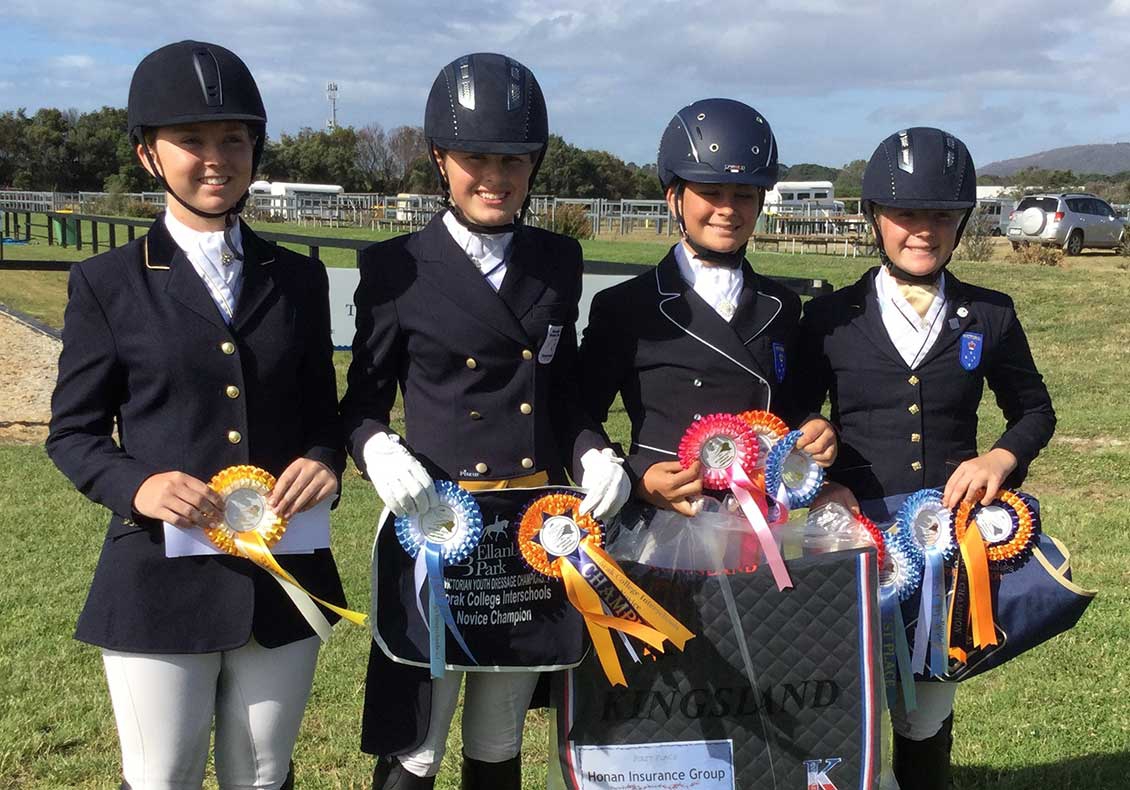 Amy Bachmann pic.
Australian Youth Dressage Championships Naming Rights Sponsor
17 October 2017
MEDIA RELEASE (For Immediate Release)
The Organising Committee of the 2018 Australian Youth Dressage Championships is delighted to announce that the naming rights sponsor for the event is Ellanbrae Park, a select performance horse stud based at Macedon in Victoria.
The Championships, to be held at Boneo Park from 18 - 21 January 2018, will cater for young riders from around Australia and New Zealand from the ages of eight to twenty five years of age. Ellanbrae Stud Director Carolyn Welsh commented "Ellanbrae Park were the naming rights sponsor for the 2017 Victorian Youth Dressage Championships and were very pleased to come on board for the Australian Championships in 2018. The event is a great opportunity for our upcoming young riders to compete across a wide range of tests under some of the best judges in Australia".
Ellanbrae Park's philosophy is to breed top class horses, eminently suitable for Australian young riders, using the best bloodlines from Europe. This gives riders the opportunity to source quality horses without the expense of travelling overseas. Ellanbrae Park has built up an impressive group of broodmares and also competition mares and by combining the best stallions and the superior Australian climate, can produce high quality performance horses. Carolyn Welsh is also enthusiastic about their breeding program using current competition mares, "We aim to breed a relatively small number of high quality foals each year utilising both embryo transfer technology and international frozen semen stallions" says Carolyn of their program. More information about Ellanbrae Park's breeding program and facilities can be found on their website www.ellanbrae.com
The event will be held over four days and prior to the Boneo Classic, an international dressage event scheduled on 24 - 28 January 2018. Boneo Park is a world class equestrian facility set amongst tranquil wetlands and just minutes from beaches and all the other attractions of the beautiful Mornington Peninsula. Running the two events in close proximity give young riders the chance to compete at both national and international level and enjoy some family holiday fun in between.
Young riders up to 25 years of age will have the opportunity to compete in tests from Preliminary level to Grand Prix. Encouragement Participation Preliminary and Novice championships together with Interschools Championships for those wanting to take part in a major Championships without necessarily having the performances at the higher levels will also prove popular.
The Australian Youth Dressage Championships rotate between New South Wales, Queensland and Victoria and 2018 saw the event awarded to Victoria by Equestrian Australia. Event and Media enquiries can be directed to Jan Smith [email protected] 0417 527412
More information can be found on Facebook and also our website www.aydc.com.au (launching soon).
Photo credit: Winning young riders from 2017. Amy Bachmann pic.