BONEO CLASSIC SUCCESS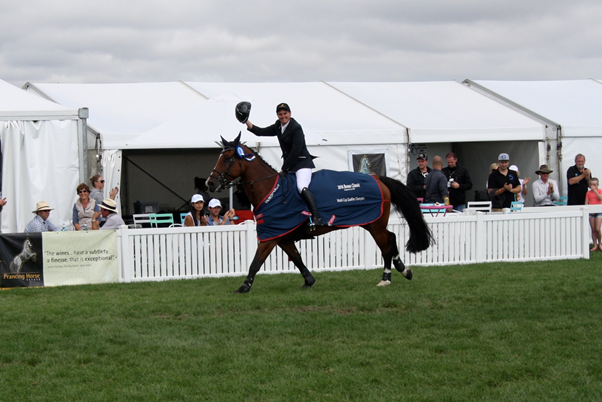 The 2016 Boneo Classic supported by NAB has ended on a spectacular note.

Dressage, para equestrian and show jump riders including Olympians, World Cup riders and many more flooded the grounds at Boneo Park from Wednesday, with Sunday bringing in locals, guests and foreign visitors to watch the last day of this thrilling event.

For the final day of the dressage, in what could have been a trifecta for Maree Tomkinson and Diamantina after winning both the CDI Grand Prix and CDI Grand Prix Special, Brett Parbery and DP Weltmieser were the winners of the final dressage class, the Pitcher Partners Grand Prix CDI Freestyle on a strong score of 74.375%.

In one of the toughest courses Boneo Park have seen, built by Heiko Wahlers, the show jumpers were certainly challenged. Stephen Hill and Yallambi's Bellini Star were the only combination to finish a clear course in the first round, subsequently winning the Prancing Horse Estate World Cup Qualifier Final, with only one time penalty.

The Olympic year added pressure to the competitors, particularly to the dressage and para riders, however it certainly added more excitement for the thousands of spectators who flocked to the event over the five days of competition.

Picnic in the Park, a new addition to the Boneo Classic program, was a hit. Competitors thrived performing in front of such large numbers in an outdoor setting, with all surfaces 'feeling phenomenal' as said by a number of competitors.
The new event layout with the Grand Prix Dressage and World Cup Showjumping set up back to back around the Trade Village was a real winner. Some of the Dressage horses seemed to grow in confidence working in the outdoor arena as they would for Olympics or WEG. This appears to be reflected in the 70% plus scores.
The facilities at Boneo Park keep on improving thanks to the courage and foresight of Fiona and her team. It was noted by all the elite riders in both disciplines just how good the riding surfaces are for this event. This should remind us how fortunate we are to have two great venues near Melbourne that between them run the majority of Australia's premier equestrian events.

Boneo Park and the team wish to thank everyone involved for putting on one of the best equestrian event's yet and look forward to planning the 2017 Boneo Classic supported by NAB.