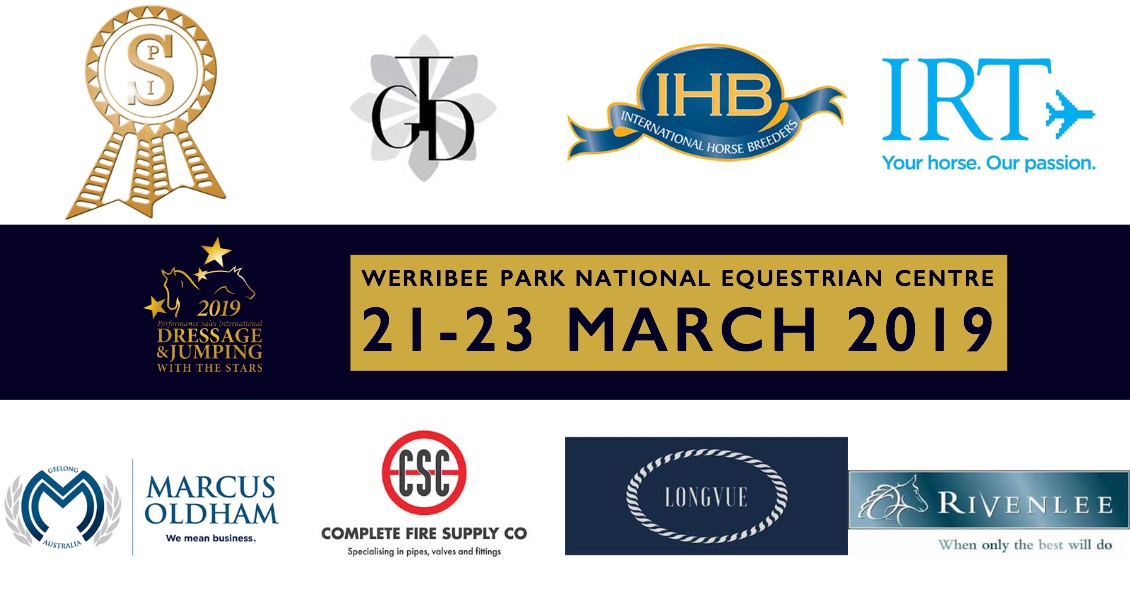 Future Champions on Two and Four Legs
P.S.I. Dressage & Jumping with the Stars
Werribee Park National Equestrian Centre, 21-23 March 2019
We are still five months out from the 2019 edition of P.S.I. Dressage & Jumping with the Stars (DJWTS), but there's a positive buzz of excitement and change in the air. The date has been confirmed, and due to popular demand, DJWTS is returning to its previous format, running over three action-packed days from Thursday to Saturday at Werribee Park in Victoria.
Once again the event will host young horse classes across four disciplines — dressage, show jumping, eventing and in-hand classes. This makes DJWTS not only one of the largest equestrian events in the Southern Hemisphere but also channels the big European shows such as the Bundeschampionate or CHIO Aachen. Where else can you watch top riders, the best equine talent from all over Australia and international stars compete in the one venue over one weekend? Add a generous serve of retail therapy thanks to the popular outdoor trade exhibition and a pinch of exclusive hospitality and VIP ticketing and you have a recipe for a great show.
A perfect backdrop for Australia's most prestigious young rider event — The Marcus Oldham Aachen Challenge, previously conducted in December as part of the Dressage Festival, will have a new home on the schedule of DJWTS, with the opening round being held on Friday and the final a highlight on the Saturday Indoor program.
It is well known that previous DJWTS dressage champions have gone on to great heights, the likes of Cinderella, Jaybee Alabaster, Mayfield Pzazz or SPH Dante have conquered the top levels of the sport. So it seems only fitting to launch the career of the next generation of two-legged champions in the same setting.
Emma Morel, Director of the Equine Management Program at Marcus Oldham College, Australia's leading educator in equine management and naming rights sponsor of the Challenge, says, "Marcus Oldham College is delighted to see the Aachen Challenge align with the 2019 DJWTS event, one of Australia's most prestigious equestrian events on the national calendar. At Marcus Oldham, our aim is to inspire and challenge future leaders in the equine industry and the Aachen Challenge is a wonderful platform for Australia's riders of the future to strive for excellence in a display of horsemanship and skill. We look forward to being involved in this ultimate equestrian showcase for young riders."
To help transition the move to the new date, a one-off amnesty will be granted for those riders, who would have turned 25 in 2018, to be eligible to ride in the March 2019 event.
The DJWTS committee and Equestrian Victoria are pleased to welcome Lizzy Schirmer as the new Event Director. Lizzy will lead the 2019 event with the support of previous directors Sue McKay and Deborah MacNicol. She says of her appointment, "I am absolutely thrilled and delighted to be involved with DJWTS. It is one of Australia's flagship equestrian events and has a great tradition. I am excited about the challenge of running a multi-discipline show and look forward to adding some new and exciting features. I am very lucky to have the support and guidance of Sue, Deb and the hardworking committee and look forward to delivering a quality event."
She is encouraging every horse lover and event management graduate, who is keen to get some hands-on experience working with a fresh and dynamic team, to become involved with the committee.
A passionate rider and horse person Lizzy brings with her a vast experience in event management, including four years with the events team at Boneo Park and appointments with the Royal Agricultural Society of Victoria, Portsea Polo, Melbourne Fashion Festival and Dressage Masterclass. She is also heading up her own events company, The Events Co. Her contribution and commitment to the sport were recently rewarded with the Equestrian Victoria Administrator of the Year Award.
Equestrian Victoria is thrilled to welcome her into the role. CEO Matthew Brown confirms, "We are delighted to provide opportunities for our passionate members to play pivotal roles in the organisation of all of our events and Lizzy's engagement is evidence of the comprehensive pathways created through our organisation for event management professionals. The 'handing over of the reins' for DJWTS 2019 introduces some exciting formatting changes. We look forward to a hugely successful event under Lizzy's guidance and welcome expressions of interest from our members to be involved in other EV events."
Tickets for the 2019 P.S.I. DJWTS will go on sale later this year. In the meantime, you can follow us on Facebook @dressagewiththestars or our new Instagram account @psi_djwts to stay up to date with all the news.