Jump Off 'Life After Racing' TV series launches on Seven Network
Jump Off is an exciting new reality television format where five teams compete for $100,000 in prize money. Hosted by Hamish McLachlan and produced by Showmakers Equestrian, the series features off the track race horses and promotes the lifetime care of thoroughbreds.
The highly anticipated series which marries the sport of horse racing and show jumping will be broadcast on Seven Network from Sunday 30 September at the following times (note updated times):
Sydney and Brisbane – 3pm
Melbourne, Adelaide, Perth, Tas - 3:30pm
Replays of Jump Off will air on Racing.com (Ch 78) three times a week – Monday evening at 6:30pm, Saturday at 8:30pm and Sunday mornings at 8:30am.
Jump Off features a line-up of Australia's best racehorse trainers and each trainer is paired with an Olympic or champion show jumping rider. Broadcast over the duration of the popular Melbourne Spring Racing Carnival, Jump Off includes some of the biggest names in racing with David Hayes of the Lindsay Park powerhouse, Melbourne Cup-winning trainer Darren Weir, multiple Group 1- winning trainer Mick Price, former jockey turned trainer Patrick Payne, and Godolphin Australia's Head Trainer – James Cummings.
Jump Off's show jumping riders include equestrian legend and three-time Olympian Vicki Roycroft, current Australian Show Jumping Champion and WEG competitor Jamie Kermond, Olympians Peter McMahon and Russell Johnstone and former Australian Show Jumping Champion and coach, David Cameron. Between them these formidable riders have won six Australian Show Jumping Championship titles, represented Australia at five OIympic Games and frequently campaign on the international circuit. They are the best of the best.
The series culminates in a spectacular indoor show jumping competition in front of a live audience at Boneo Park Equestrian Centre in Victoria. The stakes are high with the five teams competing for $100,000 – the richest Australian show jumping class in recent history.
Jump Off is an original concept created by Steve Dundon, Executive Producer of Showmakers Equestrian. Dundon, a TV industry veteran with over 25 years' experience, and also a keen show jumper, saw an opportunity to raise the profile of equestrian sport in Australia. 'There is no equestrian content on television in Australia. It's very popular overseas and there is an opportunity to showcase the sport to a broader market. Show jumping is very easy for the public to understand – you either knock a rail or you have time faults.'
Equestrian sport is already very popular in the United States and Europe and many Australian riders head overseas to compete at the elite level. They do this because there is decent prize money. Dundon believes 'the only way we will attract bigger sponsorship, and therefore bigger prize money, is by producing quality equestrian content.'
The Jump Off series was created to promote equine welfare and the versatility of thoroughbreds. 'Not every horse can win a Melbourne Cup' says Dundon. 'We wanted to focus on those horses that don't win and their life after racing and show that many of these horses can have a second career in equestrian disciplines'.
Showmakers Equestrian have been successful in attracting key support from the racing industry with Racing Victoria and RV's Off the Track program signing on as Major Partners of the series. Other sponsors include Bates Saddles, Horseware, Barastoc, Coprice, Pryde's EasiFeed, Horsepower, National Horse Transport, Willinga Park, Boneo Park and Horizon Show Jumps.
In addition to Jump Off, the Showmakers Equestrian team have also recently produced three one-hour specials for Willinga Park which will be broadcast on television later this year. These are Dressage by the Sea, Tokyo Dream – an eventing special and Outback Cowboys – a campdrafting special.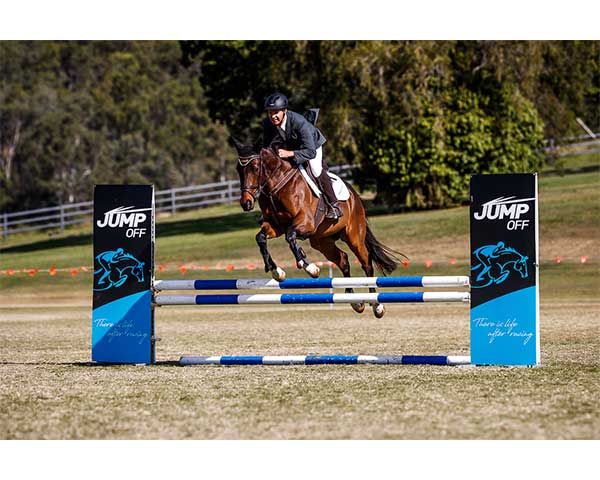 Russell Johnstone and Bolivar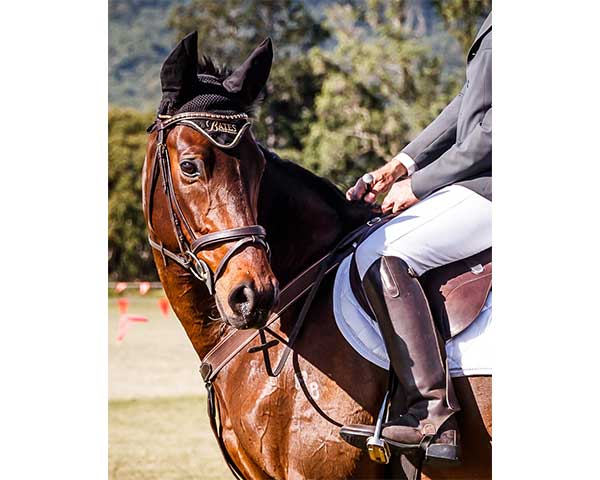 Bolivar (Team Johnstone/Hayes)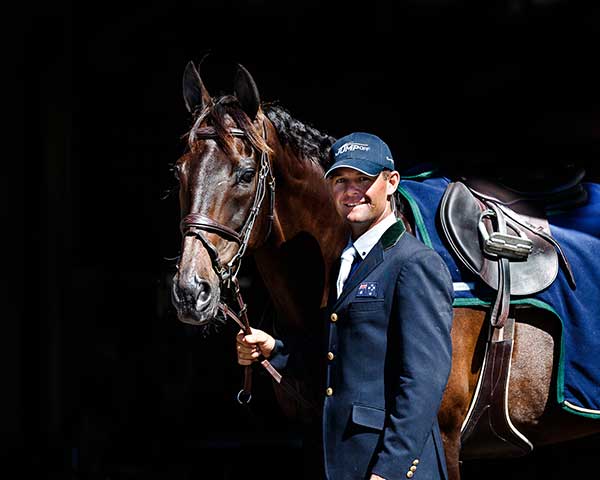 Pete McMahon and Gotta Take Care