Malcolm Barns- EV Special Services
Malcolm Barns was born on the 21st of January 1931 to parents Bernadette and Aubrey. Malcolm was mad about horses but was not allowed to have one because of the cost and due to a death in the family linked to riding.  Malcolm went to Scotch College and after school worked various jobs. Malcolm was a very good tennis player and represented Victoria as a junior. He was once umpired by Lew Hoad an Australian former World No. 1 tennis player.  He later became asthmatic and could no longer play tennis. 
Malcolm's first horse was Rory A'Moore, a thoroughbred which was too much for Malcolm and bolted all the time.  Mary Williamson, Joan Pearson and Bert Jacobs found this was very funny and always laughed when they saw this happen. Next horse was Xero; a big horse with a hogged mane and blistered knees.  Malcolm took Xero to Melbourne show and there he met Joe Stadelmann.  In 1952, Malcolm saw this beautiful grey anglo-arab in a paddock in Oakleigh and bought him not knowing he was a rogue and bucked.  Malcolm led him from Oakleigh to Clayton where Joe was running The Swiss Riding School set up by Frank Abrahams.  The horse was named Dorian and was by Sakhr out of Cascade.  Dorian bucked Joe off in the paddock.  Mrs. Coffey had straps that hooked Dorian's front leg up and then the hind leg and released the fore leg.  Dorian was ridden like this for six months.  Joe thought the horse was dangerous and he always bucked Malcolm off when he was brought in after a spell.
The only dressage competitions in those days were at the Melbourne Show.  Malcolm stabled Dorian at Wright-Stephensons up the road from the Showgrounds.  The dressage was on the main arena, the arenas were made from poles on the ground.  Malcolm always greeted people by taking his hat off and saying "Good Morning", so he rode up the centre line, halted at X and greeted the judge in this manner.  He wore a top hat he had bought from a funeral parlour and a scarlet hunting coat.  Dorian won many dressage competitions and B grade show jumping competitions and in 1957 Dorian and Malcolm won the first ever Melbourne 3 Day Event at Oaklands Hunt Club.  Malcolm's coaches were John Sheddon, who won the first Badminton on Golden Willow, Joe Stadelmann and Mrs Eileen Coffey. Malcolm was on the short list for the 1956 Olympics, he actually beat those in the team in the 1957 Melbourne 3DE.  In 1958 Malcolm rode Ever Ready and came 5th, behind Laurie Morgan with two horses and Bill Roycroft with two horses.  Ever Ready's nick name was "Pendulum Head".
 At Melbourne Show in 1962 Malcolm won the Gentleman Rider judged by Frank Weldon (a British eventer) who arranged for Malcolm to go to Robert Hall's riding school in England.  Malcolm was mainly the strapper for Mrs Hall, who competed internationally on her Lippizaner.    When arriving at Aachen show after driving till 1.00am, Malcolm slept on a park bench as no accommodation had been organised for him.   While at Windsor Show, Malcolm saw some German horses and spoke to Hans Bekker who told him to come to Germany.  Malcolm met him again, while with Mrs Hall in Hamburg and again at Rotterdam after he had stopped working for the Halls.  Hans said "Are you coming to Germany?"  Malcolm decided on the spot to go with Hans in the horse truck.  He stayed with Hans and his family at Neuss and the next day Hans said "I have a place for you at a riding school with Herr Brandll in Wulfrath."
In Wulfrath, Malcolm had great difficulty with the language.  He cleaned boxes and groomed horses at the start.  His first lesson was on Fey (mare), the next was on Amiral (big & black) and then they set him up on a horse called Adel who always bucked his riders off.  Malcolm was not bucked off and was asked to stay.
Malcolm had 2 months to prepare for his exam which would allow him to teach and compete in Germany.  This exam was all in German. The chief examiner was General Niemach who had won the Silver Medal for Dressage in Berlin.  Malcolm had wanted to go to Warendorf to study and General Niemach had told him to go back to England as there was no room for a foreigner as he had plenty of Germans wanting to do the course.   He had to ride one horse in a snaffle and one in a double bridle and teach in German.  He had to sit a written exam in German (the written part was translated by Frau Brandl).  Malcolm came top, beating the Germans and all other nationalities.  General Niemach actually congratulated Malcolm on his results.  He received the Amateur Reitleher Certificate which allowed him to teach in Germany and he was at the riding school for 10 months.
After completing his time in Germany, Malcolm set off on a three month tour of Europe in a Combi- Van with four girls, Carol Abrahams, Jenny DeMarco, Jeannine Batkin and Margaret Sampson, with a two man tent.   They travelled through France, Austria, Switzerland, Italy, Germany, Spain, Portugal and Gibraltar in 1963.
Malcolm returned to Australia at the end of 1963 and commenced work at Oakwood Riding School.  In 1966 Malcolm returned to Europe taking with him two horses, a thoroughbred stallion named Hawa Mahal (Albrey) and Fanfare (Hoover), an anglo-arab by Riffal.   The horses were loaded onto the ship in crates with ropes and a crane.  The crane driver lost control of the crate that Hoover was in and it spun wildly.  Hoover injured his hock and never competed again.  Malcolm went back to Wulfrath.  He competed in Dusseldorf in a competition which consisted of a medium test with a jump at the end.  If you refused the jump you were eliminated.  He did not compete much due to work commitments.  Malcolm was also working and competing Sparticus for a client.
In 1966 Malcom's mother and her sister travelled to England so Malcolm relocated with horses to Mill Hill, a riding school in the UK, and then to Suzanne's Riding School.  While working for Suzanne he taught 7 hours a day and worked two horses, Albrey and a Russian mare, Brig. Friedberger organised for Malcolm to sit the exam for BHS Assistant Instructor, which he passed, and a week later the exam for BHS Full Instructor, which he also passed.  The third week was another exam for a Fellowship.  Only 10 were allowed at any one time.  There were 6 candidates and all failed.  There was one vacancy and three top people so it was not given to anyone.  Malcolm was the only one who could jump at the Cavalry School at Leistershire.  The next year the top 3 plus three invitees sat the exam and all failed again.  Jeffrey Hatton eventually got it.  Malcolm could not sit for it again as by this time he had returned to Australia.
Malcolm kept applying to Australia for a licence to compete but they did not answer his requests, however, he did compete Hawa Mahal at PSG level and came third.  Disappointed he was not able to compete, Malcolm came home to Australia with his horse Hawa Mahal.  Malcolm worked his passage home.  He was in charge of 13 horses, all stabled on the deck of the ship, with only a French-American boy to help.  They had to water and feed all horse three times per day and muck out the stables.  Four days into the trip, they were warned they were sailing into cyclones.  The weather bureau directed them to go between two cyclones.  There were chains between the horse boxes.  The ships engines broke down in the middle of the storm and they were stranded for 36 hours before the engines started again.  The crew told him that on the last trip 5 horses were washed overboard along with 5 men.
In 1970, 1971 and 1972, Malcolm rode Lure, a beautiful grey thoroughbred owned by Donalda Wilson, in the Horse of the Year Show held at Olympic Park on the banks of the Yarra River.  On each occasion Lure won.  Lure and Malcolm wowed the crowd and the judges with a very exciting gallop around the grounds.
Malcolm returned to Oakwood Riding School in 1972.  Between 1969 and 1972 Malcolm was at various places teaching and competing.  In 1975 Malcolm went to Spain with Alice Stainton with the view to buying Andalusion breeding horses.   In particular Malcolm purchased Hortelano V11 and Alice purchased Martinette, both stallions.  Hortelano (Horrie) had been a bull fighting horse.  Horrie sired many horses and competed very successfully up to PSG winning many trophies.
Malcolm also trained and competed the famous Arab stallion "Rami".  The Rami Sash, awarded at Melbourne is named after this horse.
Malcolm bred Punchinello and trained him to GP.  However "Punch" had to be retired before he could compete due to a compressed pelvis from a fall.
The riding lessons at Oakwood Riding School with Malcolm were legendary.  It was not unusually to have more than 10 riders in the indoor being 20 x 40.  All riders had to keep the correct distance from the horse in front and all worked well.  At rest time the students were asked theory questions about the paces, movements, etc and discussion was encouraged.  Malcolm encouraged everyone to read books by famous riders and teachers and to bring any questions back to the next lesson.  He also encouraged pupils to go to other instructors and bring ideas back to also be discussed.  To demonstrate extended trot, Malcolm stood at one end of the school and cracked the lunge whip.  Horses flew down the long side and one horse jumped the manure barrow.
Malcolm has a great sense of humour and at Melbourne one time, he swapped horses with Jill Ryan (Cobcroft), and in the Grand Parade he rode  Nutcracker dressed up as Jill and Jill led Rami in the Arab Stallions Section dressed as Malcolm.  The jumping riders in the riders stand were very uncouth and used to  heckled Malcolm as he left the arena, so Malcolm took out his water pistol and sprayed them with water.  Malcolm also dressed up as a Roman in a short skirt and a laurel wreath on his head and clung on in the back of a chariot during the very dangerous chariot races during Melbourne Show.  The buckjumping horses were used, two to each chariot, and they flew round the trotting track out of control.  Oakwood  ran fancy dress dinners in the indoor school and Malcolm's costumes were hilarious; consisting of an Airline Hostess, a Dustman and a Man in an Overcoat, long socks and a hat.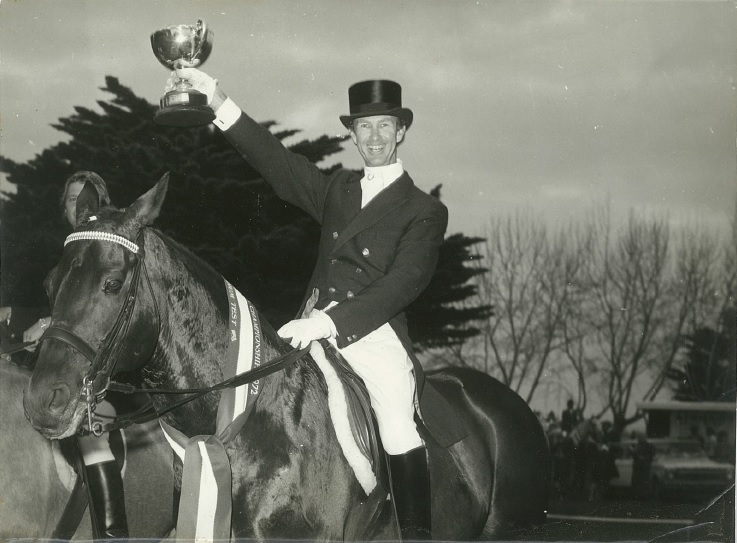 1972 ANZ Cup- VDC Best FEI Horse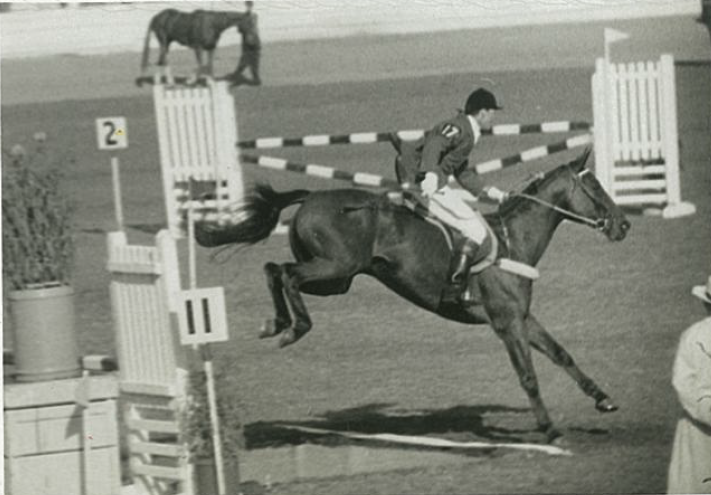 Eveready Sydney 3 Day Event 1959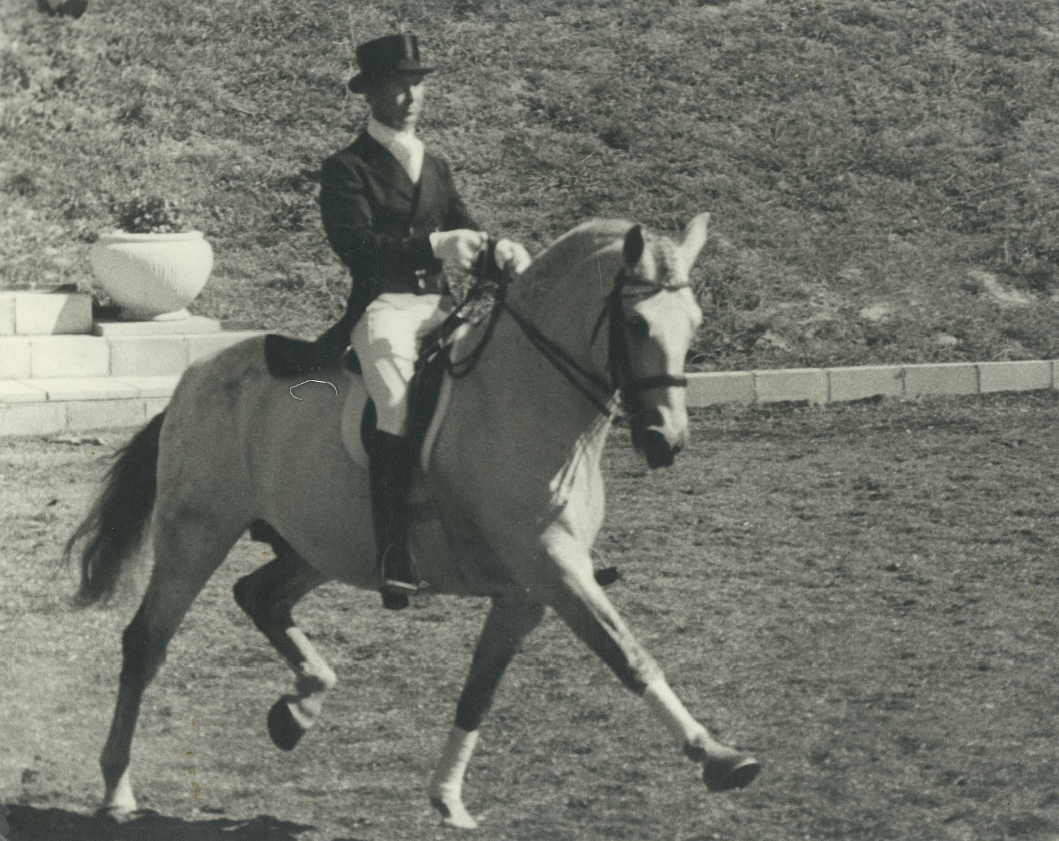 Hortelano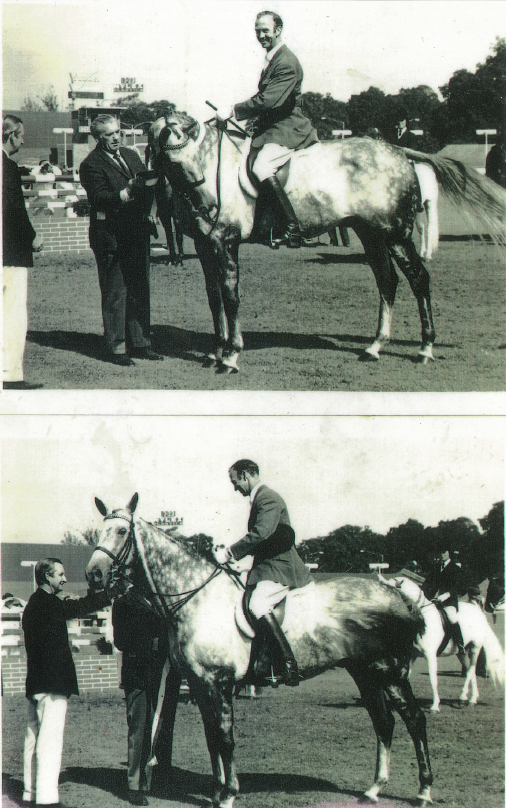 Lure winning Horse of the Year 1970