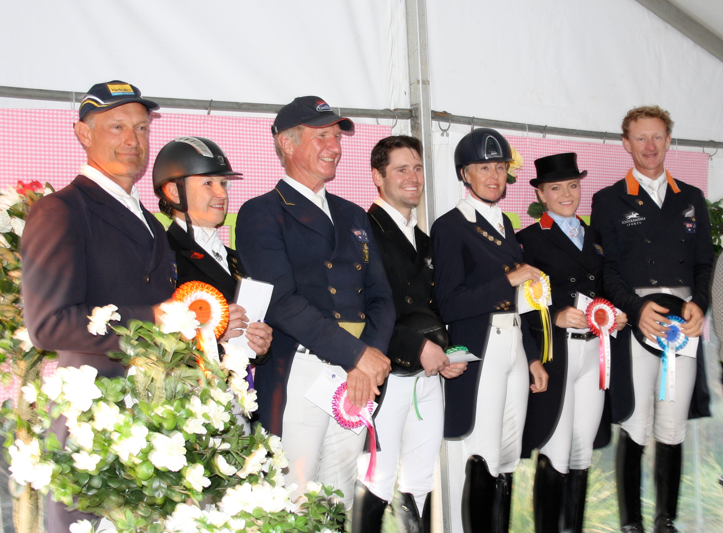 MEDIA RELEASE FROM BONEO CDI
TOP TALENT AND INTERNATIONAL FEI JUDGES: THE 2016 SPRING CDI*** PROMISES A FABULOUS DRESSAGE SPECTACLE.
Less than two weeks after a thrilling weekend of Jumping at the Boneo Park Cup, a host of top-level dressage riders have descended on Victoria's Mornington Peninsula for this week's Spring CDI*** Dressage competition at Boneo Park Equestrian Centre.
This prestigious event showcases some of Australia's best horse-and-rider combinations, who all want to secure titles for their State in front of an impressive line up of international judges.
Boneo Park Director, Fiona Selby, said Boneo Park was thrilled to welcome seven FEI judges from Italy, The Philippines, New Zealand and Australia to this year's event.
"The Spring CDI*** series retains it's appeal to both participants and the public alike, encouraging continuous development and competitiveness", said Fiona.
Judges at the Spring CDI are registered through their national federation, with the highest qualified being registered with the FEI for international competition.
"Everything about this Spring CDI series suggests a top weekend of sport, and we are delighted to have riders from every state in Australia competing."
Looking out
So who should we be looking out for? World Equestrian Games competitor and world-class dressage coach, Brett Parbery, with his striking young horses PPH Zeppelin and Aber Hallo 29, will be ones to watch in the Trailrace Grand Prix CDI*** on Saturday.
London 2012 Olympics mount, Clive, the17 year-old- Holsteiner gelding ridden by Kylie Riddell, will be a genuine crowd pleaser.
Meanwhile local rider and Boneo Park regular, Abbie O'Brien, is sure to have her eye set on another Small Tour Championship based on recent performances.
Looking good
Riders and members of the public attending the 2016 Spring CDI*** will be treated to a fabulous array of equestrian fashion at this year's Trade Village.
Featuring exclusive traders such as Trailrace Saddlery, Riders XOXO, Arch & Alex, The Rider's Shoppe and The Dancing Horse, the Trade Village brings together exceptional brands and quality products for horse and rider that are the choice of many professional and recreational riders around the world.
Essential Facts and Figures
The action begins on Friday 23 September and runs through to Sunday 25 September. The event is open to spectators free of charge. Gates open to the public from 8:30am and competition runs continuously each day across the weekend.
The 2016 Spring CDI is proudly sponsored by Equestrian Australia; Trailrace Saddlery; Arch & Alex; Riders XOXO; The Dancing Horse; The Rider's Shoppe; Pryde's Esifeed and Martin Collins.
Connect with Boneo Park:
Enquiries:
t: +61 3 5986 3006