Tatura Dressage Classic
Over the years I have looked at the Tatura Dressage Classic in the calendar of events and assumed that it was too far away from home. A kind invitation from hard working Event Director Sue Terry enticed a group of us to visit Tatura last weekend.
I was pleased to see a good number of prominent Melbourne based riders taking part in the event. Clearly they know what I have just discovered that Tatura is an easy drive from around Melbourne and the rewards for a little extra travel are great stables, camping, arenas and hospitality.
Those like me who haven't been to the event before may be surprised to see the amazing infrastructure that Tatura has built over the years. Tatura is the home of Dairy Week, the largest Dairy industry show in the Southern Hemisphere. This massive event has provided the facilities at Tatura Park used by equestrians throughout the rest of the year.
The plethora of undercover areas used for dairy cows during Dairy Week are transformed into 200 safe stables and powered camping sites. The spacious indoor arena is used nonstop throughout the show and has been brilliantly augmented by the huge roof over the adjacent warmup area. The locally acquired sand surface appears to hold the moisture well and like everything at this event was well maintained.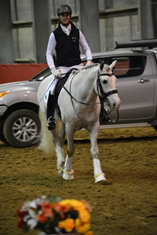 Ben Terry riding in the Judge Demonstration
Sue and the Tatura Football Club have gone to great lengths to provide an event of the highest quality. She cleverly attracts the highest level judges, has great sponsors and attractive prizes. To help explain the scoring of Dressage, Sue organised a demonstration ride with the judge explaining the marking of each movement over the P. A. The interested audience were exposed to the speed, complexity and pressure under which our judges operate. Lou D'Elia kindly allowed the public into the rapid fire decision making process of Dressage judging. These "Demo Judging" sessions were well received and will be an idea I take back to some of our EV events.