2019 Equestrian Victoria Awards
The Equestrian Victoria Awards are held annually and recognise outstanding contributions and achievements within Victorian equestrian sport.  It is the time of the year where everyone in the sport, no matter what age, disciplines or role, can come together to celebrate the achievements of the year.
Along with the announcement of this year's HALL OF FAME Inductee, the awards below will be presented with the winners being put forward as Victoria's nominees in the Equestrian Australia Awards.
We are also pleased to announce that our Major Partner for the Awards this year is Racing Victoria's OTT, and this year we will be joining with OTT to bring you an OTT Retrainers Award along with the other 4 discipline specific awards for best performed OTT horse during the last year.
"We are thrilled to see the introduction of the Racing Victoria Acknowledged Retrainer Award recognising the hard-work and dedication that our diverse and highly skilled network of Retrainers do with retired racehorses".
"Our Retrainers are tasked with re-educating retired racehorses for second careers as performance and pleasure horses and championing them as the ideal equestrian athletes.
"They are an integral part of our Off The Track Program, and their dedication and loyalty to partnering with Off The Track thoroughbreds deserves recognition, and that's exactly what this award will do".
A cash prize of $2500 will be awarded to the winner of the OTT Retrainer Award to assist in the continuing development of their OTT work.  
The 2019 EQUESTRIAN VICTORIA AWARDS
---
The Awards Categories
HALL OF FAME INDUCTEE
SERVICE AWARDS:
Official of the Year
Club of the Year
Coach of the Year
Event of the Year
Groom of the Year
Administrator of the Year
Volunteer of the Year
– Dressage
- Jumping,
- ParaEquestrian, 
– Show Horse
- Eventing
– Interschools  
HORSE OF THE YEAR:
Jumping
Show Horse
Eventing
Dressage
RIDER OF THE YEAR:
Jumping
Show Horse
Eventing
Dressage
PARA EQUESTRIAN ATHLETE OF THE YEAR
DRIVER OF THE YEAR
YOUNG RIDER OF THE YEAR:
Jumping
Show Horse
Eventing
Dressage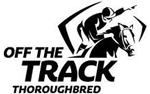 OFF THE TRACK HORSE OF THE YEAR: 
Jumping
Show Horse
Eventing
Dressage
OFF THE TRACK RETRAINER AWARD