Australian Youth Dressage Championships 2018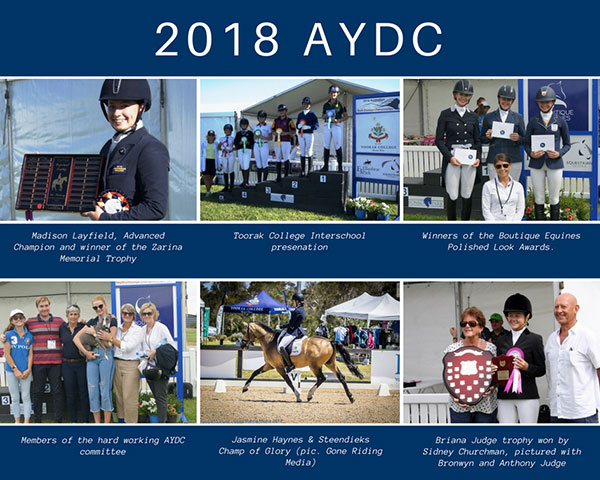 The Ellanbrae Park Australian Youth Dressage Championships held at the Boneo Park Equestrian Centre concluded after four intense days of competition. Riders from New South Wales, Queensland and South Australia battled it out with leading local riders in tests ranging from Preliminary to Grand Prix.  Supporting the main event, Interschool and Participation classes were very popular and gave new riders the chance to mix with our top young riders.   
A record twenty-two riders in the Official tests achieved scores of 70% or higher, with the stand out being Fern Wright and her Welsh Cob Kamber Pryderi winning the Boutique Equines Under 25 Grand Prix Championship with a Freestyle score of 73.242%.  On top in the Marcus Oldham FEI Young Rider Championship was Jamie Mita and her handsome bay stallion Westewind, while the Benleigh Equestrian FEI Pony Championship saw a comprehensive win to Jasmine Haynes riding the beautiful buckskin German pony Steendieks Champ of Glory.  Jasmine was also the delighted winner of the Kevin Hitchins and Deb Hamid award for the most successful rider in an FEI Championship, receiving a stunning handmade silver stock pin for her efforts.  The Riddells Creek Dressage FEI Junior Championship was a very close fought affair with Jess Hivon and Greenoaks Weltmann a winner on a countback from Lindsey Ware and Let's Jazzaround.
Jan Smith, a member of the Event Organising Committee commented "we are very happy with the results of the event.  In some areas, we saw a measurable improvement in the standard with the significant number of scores of 70% or over". 
Thursday and Friday saw strong competition in the Toorak College Interschool Championships with Katya Bathurst and Blue Dust Chardonnay a stand out winner in both Preliminary and Novice.  Katya represented her school Axedale Primary.  Sasha Tivey and Furst Tyme won the 2Construct Elementary Championship and Annabelle Creed was consistent in the Interactive Elementary Pony Championship.
Riders had to battle very hot conditions on the first two days but Madison Layfield and Remi Legendary were very happy winners of the Benleigh Equestrian Advanced Championship and the Zarina Trophy.
A long drive was rewarded for young Indi Officer and Devlin Park Time Will Tell who won the Motor One Group Participation Preliminary Championship while in the open rings South Australian rider Jemma Dodd was the Australian Sports Pony Registry Pony Novice Champion and Jayde Kirkham had two scores over 70% to take out the Alan Mance Ram Novice Championship.  The Dressage Queensland Medium Championship was won by another South Australian rider in Phoebe Foulkes riding Fire and Magic. 
The final day of the Championships saw a new star with Tayla Desmet producing two stunning tests to take out the Bob Jane TMarts Participation Novice Championship with the young imported mare Zaubermaus who was having her very first Australian competition.  Sidney Churchman and another lovely mare, Jenjan Furst Star won the Honan Insurance Preliminary Championship and Katya Bathurst completed a memorable treble winning the Australian Sports Pony Registry Pony Preliminary
Generous prizes were donated by Magic Tails, Hi Form Australia and Harrys Choice, a great new range of natural horse feed.  Stunning Championship rugs were supplied by Valley Horse Wear.  Our media partner, Equestrian Life, once again showed their support for youth dressage.  Boneo Park provided an 
international class venue but also went above and beyond in their support of the event.  
The Championships concluded with the awarding of a number of perpetual trophies honouring riders who tragically lost their lives as they followed their dream, with the Briana Judge Memorial going to Sidney Churchman and the Taylor Farley Memorial awarded to a very excited Dana Krause. 
Well known dressage horses were remembered with the Rolando Trophy going to Emily O'Connell, the Highborn Baden Trophy won by Jayde Kirkham and Ruby Hardwick was rewarded for her hard work, winning the Macedon Ranges Encouragement Award.
Judges came from Queensland, Tasmania and New Zealand and supported a strong local line up, a truly international flavour.  The event had everything, Freestyle tests, an entertaining Pas de Deux, dog races, a mini master class with Gitte Donvig and a sensational gourmet barbeque sponsored by longtime supporter of the event, The Dancing Horse. 
Jan Smith - Young Rider Squads & Development Program