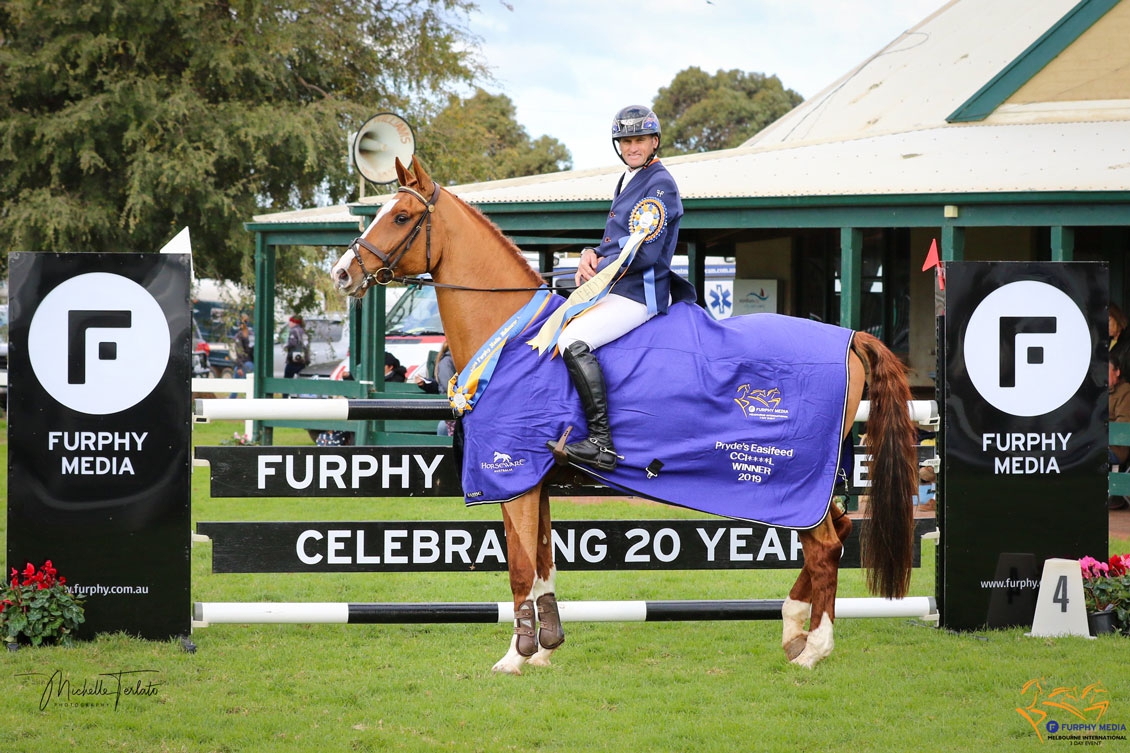 Michelle Terlato
Celebration on Top at the Furphy Media MI3DE
Story: Ute Raabe
Two young guns and two masters of the sport rose to the occasion at this year's Furphy Media Melbourne International 3 Day Event (MI3DE). New naming rights sponsor Furphy Media added their special touch to every aspect of the event and we look forward to working with them on next year's event.
Werribee Park never looked better than over the Queen's Birthday public holiday, with Furphy Media flags flying in the breeze, the sun shining and the crowds streaming through the gates to witness a long weekend of equestrian action. Ewan Kellett's and Mick Pineo's cross country courses looked amazing and gave the riders plenty to think about. It has been years since the jumps were set up so close to the historical Werribee Mansion, and what an amazing sight that was. Other iconic locations like the State Rose Garden and the Ornamental Lake also made a comeback. All these provided fantastic viewing and photo opportunities for equestrian fans. We thank Parks Victoria for their great support and cooperation year after year!
Dressage leaders Stuart Tinney and Celebration held onto their lead, completing the CCI4*L cross country with only 3.2 time faults added to their dressage score. But anything can happen on showjumping day, and so it did. The David Sheppard designed jumping course proved challenging for many combinations, resulting in considerable movement in the leaderboard rankings. In the end though there were four deserved winners, two up and coming eventing stars and two absolute masters of the sport.
14-year-old Oliver Barrett from NSW clearly wanted to step in his parents' footsteps as both Craig and Prue Barrett have been winners around Melbourne before. Riding 13-year-old grey mare Sandhills Special Oliver won the Off The Track CCI2*L Junior event and also finished in 8th place on his second ride, OTTB Ballyhoo. First place in the Off the Track CCI2*L Junior Teams Event went to Team NSW.
Double clears in the cross country and showjumping phases meant the victory for Samuel Jeffree and Woodmount Lolita in the Off The Track CCI2*L. The talented Victorian rider is now traveling to the USA for a work experience gig with one of the world's best event riders, Boyd Martin - what an amazing opportunity. We can't wait to see what valuable lessons Sam will bring back on his return.
In the Leader Equine t/a Horseware Australia CCI3*L Tim Boland and Menlo Park continued their successful form from the Sydney International 3DE to be victorious at Werribee Park. Menlo Park was formerly campaigned by British rider Oliver Townend and fellow Aussie Kevin McNab.
In the main event, the Pryde's EasiFeed CCI4*L, Olympian Stuart Tinney and Elizabeth Brinton's Celebration claimed a start-to-finish victory. Stuart was proud of the gorgeous gelding, who is only eight years old, "He jumped super in there, he had lots of energy this morning and worked really well and he jumped as well as he always does, I am very happy." It seems Celebration likes it around Werribee Park, in 2018 the pair won the CCI3* (then CCI2*) in equally dominating fashion. Stuart also took home a look-alike of Celebration in the stunning yearling colt Rasta D, bred and donated by Shane and Mattea Davidson of Davidson Equestrian.
We hope you enjoyed this year's event as much as we did and invite you back to our 2020 Furphy Media MI3DE, 5-8 June 2020.
Our sincere thank you must go to:
Our many generous sponsors, first and foremost our new naming rights sponsor Furphy Media, who enable us to produce an event of this calibre.
The lovely group of officials, who travelled from all parts of the globe to govern on behalf of the FEI.
The amazing volunteers, all 200+ of them, who support us each year and are a joy to work with.
Our MI3DE Committee made up of our Eventing Committee plus a few extra special people.
Course designers Ewan Kellett and Mick Pineo and their cross country crew for the incredible courses as well as showjumping course designer David Sheppard and his team. 
The team at Werribee Park for working overtime to present the venue so well and service the stables and facilities.
The competitors and their horses, who train so hard for this event and often undertake such a long journey to get to Melbourne. 
The 1000's of spectators, who come in droves to cheer and support our competitors.