COVID-19 UPDATE – 15 MAY 2020
1. RETURN TO EQUESTRIAN SPORT
On Monday, 11 May 2020 the Victorian Government made announcements relating to the easing of restrictions due to the COVID-19 pandemic. These included allowing people to participate in outdoor activities, or for community sports, to train in groups of up to 10 people.
Equestrian Victoria supports this approach as it recognises that sport and exercise play a critical role in the physical, mental and emotional wellbeing of Victorians, but importantly, the approach must be balanced with mitigating the risk of transmitting coronavirus.
As such, the State Government has developed the following principles to guide the lifting of restrictions around sport and exercise.
Sport and exercise can resume if:
you keep your distance while performing the activity (at least 1.5 metres apart);
you are not doing your activities indoors and they are not competitive; and
you can do them with a maximum of 10 people.
For the sake of clarity, the Government (DHHS) stipulates that "you can participate in training for all sports, but it must be non-contact, with only 10 people participating at any one time in addition to those people running the training (e.g. coach, manager)". Further details can be found on the DHHS website.
While this provides an opportunity for many of us to get back into participating in equestrian activities outside of our home environment, Equestrian Victoria wants to emphasise that how we all collectively act in the coming weeks will directly affect the health of our community and our sport's ability to return to more regular equestrian activity in the near future.
We are being provided an opportunity to enjoy a level of sport and exercise outdoors in the short term, but we must not compromise safety, nor the reputation of the sport, at this vitally important time.
Remember:
Your outdoor sport or exercise activity can be part of a club, but you cannot use club facilities, except toilets.
Use of shared sporting equipment e.g. tack, should be minimised and there should be no sharing of equipment that touches the face or head (e.g. helmets, coaching headsets).
If the activity involves shared equipment, only equipment with smooth, hard surfaces should be available for use and the equipment should be sanitised between users.
Equipment with hard and smooth surfaces are easy to disinfect by wiping between users, however, the preference is for people to use their own equipment wherever possible. Equipment available for loan or hire to different individuals or groups should be limited to equipment that can be effectively sanitised between users.
On Monday 18 May, Equestrian Victoria will be releasing its 'Return to Equestrian Sport' Plan with specific information relating to each discipline.
2. INFORMATION FOR PROFESSIONAL EQUESTRIANS
Definition of 'Professional Equestrian' – A person who depends on participation in equestrian sport for their main income. Note this is income based, i.e. professional status defines how you make your living not how well, or at what level, you ride. It does not include coaches, officials, or agistment centres.
Refer: Australian Taxation Office definition
As part of the above 'Return to Equestrian Sport' roll out, high performance and professional sport can now resume full training and competition in line with Chief Health Officer's Directions. This is under the condition that individuals and/or organisations have comprehensive risk management plans in place in line with the Professional Sports Guidance Note.
This includes:
Normal training allowed with strict hygiene and safety procedures in place
Use of indoor physical recreation facilities where the facility is only used by a single professional sports person at any one time and is only used for the training purposes.
High performance and professional sport is provided with this allowance on the basis that professional equestrians are undertaking these activities at venues that are a place of work and they are able to put in place comprehensive risk mitigation plans.
A full list of activities and how the current restrictions apply is now available on the SRV website. These activities are examples only.
Please ensure you review the Chief Health Officer's Directions to understand how they apply to you and how you can be consistent with the rules. The website also has helpful FAQs for organisations and participants.
3. WHAT CONSTITUTES AN INDOOR ARENA?
We have received many queries around the use of Indoor Arenas, and we hope to answer all queries as clearly as possible.
An Indoor Arena is "an arena that is substantially enclosed by a roof and walls, regardless of whether the roof or walls or any part of them are permanent, temporary, open or closed".
"Substantially enclosed" means: Premises that have a ceiling or roof but there is an opening or an aggregate area of openings in the walls which is less than half of the area of the walls (including other structures that serve the purpose of walls and constitute the perimeter of the premises).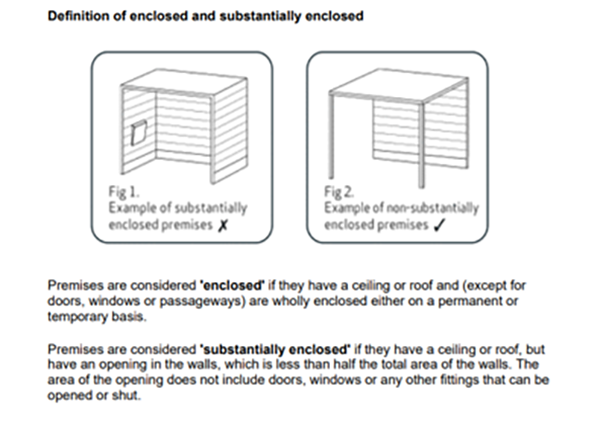 If your arena has:
A roof and no walls it is NOT an indoor arena - it is a COVERED Arena
A roof and is enclosed by full height walls it is an INDOOR arena 
Half height (or thereabouts) walls BUT has OPENINGS the area of which MAKE UP MORE THAN HALF THE AREA OF THE WALLS, including any other structures that serve the purpose of walls and constitute the perimeter of the premises, then your arena is NOT an indoor arena.
Example 1:
My arena has a roof and is 60m x 20m. I have full height walls down one long side and down one short side. The other two sides have half height walls. Therefore, my arena is SUBSTANTIALLY ENCLOSED (more than 50% is wall) and is therefore technically an Indoor arena.
Example 2:
My arena has a roof and is 60m x 20m. I have half height (or lower) walls all the way around my arena. My arena is therefore NOT SUBSTANTIALLY WALLED and is therefore technically NOT an Indoor arena.
4. INFORMATION FOR PRIVATE INDOOR ARENAS OWNERS
An indoor arena is able to be used for personal use by the owner/s of the property on which the arena is situated.
Definition of a "privately owned arena" – a facility which is NOT operated on a 'for-profit' or 'not-for-profit' basis.
Example 1:
I have an indoor arena on my own property and do not derive any income from it. Can I ride in it?
YES, however this is limited to the resident/s of the property. Having visitors attend to train in your indoor arena is not in the spirit of State Government directives – refer to Equestrian Sport.
Example 2:
I have an indoor arena on my agistment property, can my agistees ride in it?
Agistment centres need to act in accordance with State Government directives and we will be communicating with those centres that have registered with Equestrian Victoria. If you would like to register your agistment centre please do so here.
If you are still unsure or need support with regard to the above information – please email: [email protected]
Thank you again for your patience and responsible approach to ensuring the health and safety of our community.
Matthew Brown

Chief Executive Officer - Equestrian Victoria

Email: [email protected]