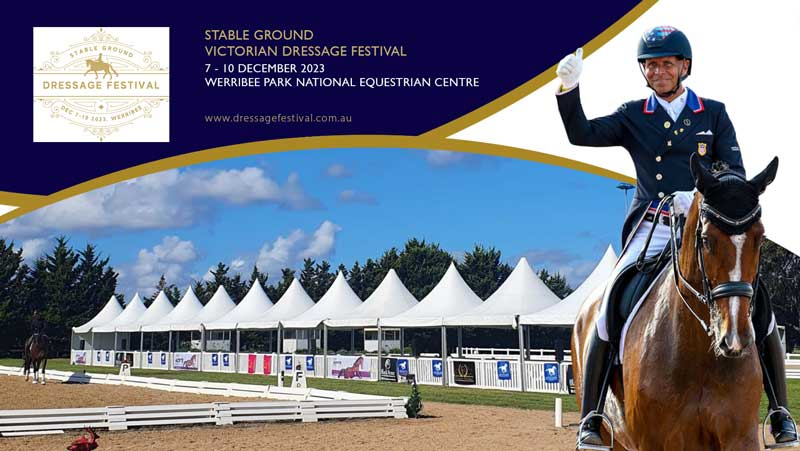 DRESSAGE FESTIVAL BACKED BY STABLE GROUND
The Victorian Dressage Festival Committee is thrilled to announce that arena construction and maintenance company Stable Ground, owned by Adrian Veneziano has taken up naming rights sponsorship of this marquee event.
The Victorian Dressage Festival is a long standing event, one our Victorian and Interstate dressage riders look forward to every year. It is held at the end of the year and is a fantastic way to end the season. The event is our State Championships and decides who will be the Victorian Champion at each level.
The event will be held December 8-10 at Werribee Park National Equestrian Centre. The Dressage Festival is the only event ran by Dressage Victoria under the directorship of Lizzy Schirmer.
This year the event announced that Dressage Royalty, five time olympican from USA Steffen Peters will attend the event and conduct two masterclasses. It is safe to say come December, Werribee Equestrian Centre will be the place to be!
Director of Stable Ground Adrian Veneziano said "Stable Ground is delighted to offer financial backing and support to the Victorian Dressage Festival. The team at the DF are passionate and committed to putting on an event that benefits our Victorian Dressage Community and we are thrilled to be a part of it.
Event Director Lizzy Schirmer said "to have the backing of Stable Ground lets us lift the event to an even higher standard, as a not-for-profit event every cent we bring in is put back into the event to ensure it is the very best event it can be for our riders, traders, sponsors and general Equestrian Community. Stable Ground have shown themselves to be one of the most generous companies we have seen when it comes to sponsoring events and putting back into the sport. Just this year they have taken up sponsorship of the Dressage & Jumping with the Stars, Interschool State Championships, Australian Youth Dressage Championship, Australian Dressage Championships, Boneo Park Arilla Cup and the Dressage Festival. On behalf of all Equestrians I thank Adrian and Bianca for their tremendous support."
Adrian Veneziano, owner of Stable Ground said "My wife Bianca and I understand the importance of purpose-built equestrian Arena surfaces and maintenance equipment to prevent injuries & manage every horses soundness. With my wife's dressage experience and my engineering, construction expertise, we have been able to share ideas and come up with the best equine arena solutions across all equine disciplines. We cater for not only professionals but also the discerning hobbyists who are keen to build facilities that will give years of service, look great and will keep their horses safe and sound.
Stable Ground provides innovative solutions for a wide range of design and building projects. We specialise in metal fabrication, engineering and civil works, including, riding arenas with a variety of purpose designed all-weather surfaces, arena grooming equipment that can be manually operated or controlled remotely, custom designed automated gates of the highest quality and personalised signage that adds a signature touch for the most discerning horse enthusiasts. Please visit our trade stand at the event to discuss your next project or just pop in for a chat!"
Entries for the event are open and tickets for the Masterclass events are now on sale –BUY TICKETS
The Victorian Dressage Festival is a not-for-profit event ran under Equestrian Victoria by The Equestrian Victorian Dressage Committee.
WWW.DRESSAGEFESTIVAL.COM.AU